Other Activities and Events
World Space Week celebration - Online Lecture
Greetings !!
Nehru Science Centre, Space Geeks and Indian Space Industry Exhibitors cordially invite you for World Space Week Celebration
Date: 5th October 2023

Time: 3:00 pm

Topic: "Planetary Missions of India"

Speaker: Prof. Anil Bhardwaj

Distinguished Professor & Director, Physical Research Laboratory, Ahmedabad


 Embark on a fascinating journey into the celestial realm as Prof. Anil Bhardwaj delves into the remarkable Planetary Missions of India.


Registration Link:  https://tinyurl.com/WSWL1NSCM


 *Thanks & Regards,*
Team NSCM, Space Geeks and ISIE

Space Geeks
National Council of Science Museums-NCSM
Ministry of Culture, Government of India
Vidyarthi Vigyan Manthan (VVM)
Vidyarthi Vigyan Manthan (VVM) is India's largest Science Talent Search Examination for school students of standard VI to XI. It has been conceptualised to identify bright minds with a scientific aptitude from the student community. VVM is a national program for popularizing science among school students with the following objectives:
To create interest among students in pure science
To educate school children about India's contributions, from traditional to modern, to the world of science and technology
To conduct competitive exams to identify students who have a scientific bent of mind.
To provide hands-on training to students through workshops and other events
To provide mentors for preparing students to carry forward their education in the field of science
To identify successful students at the State and National levels and felicitate them
To organise exposure visits for the winners to various R&D institutions in the country
It is an initiative of Vijnana Bharati (VIBHA), in collaboration with National Council of Educational Research and Training (NCERT), an institution under the Ministry of Education, Government of India and National Council of Science Museums (NCSM), an autonomous organisation under the Ministry of Culture, Government of India.
Interested participants may visit https://vvm.org.in/register  to register for this event. 
For more information, visit https://vvm.org.in/
Download Brochure of Vidyarthi Vigyan Manthan (VVM) 2023-24 and Advertisement Poster
Test Your Experimental Skills - Level 1
Are you confident in your academic abilities?
If yes!
Please take our skill test to receive a certification as a skilled student.
Bombay Association for Science Education (BASE) and Nehru Science Centre (NSC) will host
yet another Experimental Skills-based test. Please refer to the attached poster for the programme details.
For detailed guidelines kindly contract on our WhatsApp
How do I take the test?
Students will be required to do various experiments according to a handbook as part of this test.
Please see the attached file for instructions.
Eligibility: Students of Std. 8th to 12th
Fee : Rs. 100/-
Date : 21st October 2023
Time : 10.30 am to 4.00 pm
Seize the chance!   
Thank you!!
International Day of Scientific Culture
National Teachers' Day clebration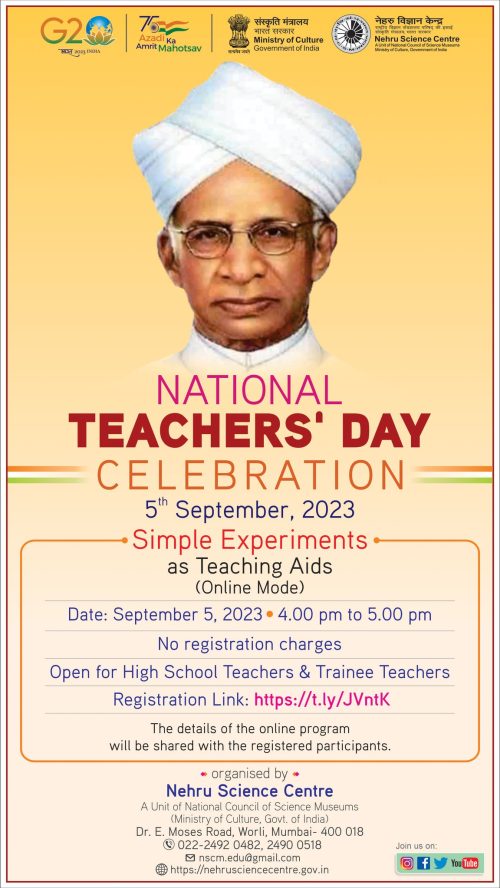 Launch of Aditya - L1 Mission
Landing of Chandrayaan 3 and Interaction with Experts
Workshop for Homemakers - Making Plant Based Skin Care Products
Independence Day celebration
Online Digital Game Designing Workshop (Level-1)
International Moon Day celebration
International Moon Day celebration: Online Popular Science Lecture
Space Exploration and Moon Landing Quiz
International Asteroid Day celebration
9th International Day of Yoga
Mumbai Kaustubh: A LIVE Musical Concert